Kari, proud owner of the MOXXI Saginaw location, was born and raised in Saginaw, MI. She began her nursing career more than 10 years ago as a Nursing Assistant. When her passion for helping others was quickly found, she received her Associate Degree of Nursing from Delta College and became a Registered Nurse (RN). As an RN, Kari gained experience in neuro trauma, endoscopy, nursing education and neonatal intensive care. She went on to advance her degree further and obtained her Bachelor of Science Degree from Saginaw Valley State University and completed her education with a Master Degree from Walden State University. She is now credentialed by the American Association of Nurse Practitioners with specialization in Family Nurse Practitioner (FNP). Her FNP specialty has prepared her to manage the care of individuals and families across the lifespan. She is also board certified by the American Nurses Credentialing Center (ANCC) for Pain Management and a Certified Aesthetic Nurse Specialist (CANS) with the Plastic Surgical Nursing Certification Board (PSNCB). In addition, she is currently a Women's Health Specialist at Valley OB/GYN.
Kari is an extreme advocate for collaborating amongst her colleagues and continuing her education. She is passionate about advancements in new techniques and treatments to improve patient results, safety and comfort.
Dr. Sara K. Ornazian
The MOXXI team wouldn't be complete without our Physician anchoring our services. Dr. Sara K. Ornazian is an established, board certified, Doctor of Osteopathic Medicine (DO). She is a Michigan State Alum where she earned her Bachelor of Science in Physiology and from there earned her DO from the University of Pikeville–Kentucky College of Osteopathic Medicine. Having over 10 years of experience specializing in Emergency Medicine, she has earned high professional distinctions with the Fellow of the American College of Emergency Physicians (FACEP) and the Fellow of the American College of Osteopathic Emergency Physicians (FACOEP) respectively.
She compliments and embraces the "whole-person" approach to aesthetic medicine and believes sexual wellness is a natural component of a person's overall well-being. The combination of her standards, education, and approach to medical integrity ensures that our clients receive not only the best care, but the most empathetic. Her MOXXI will make you feel good about yourself.
Now Two Locations to Serve You
Saginaw
6137 TITTABAWASSEE ROAD, SUITE 3
SAGINAW, MI 48603
Clawson
116 SOUTH MAIN STREET
CLAWSON, MI 48017
Botox / Dysport
Botulinum toxin is a prescription medication that is injected into muscles and used to improve the look of moderate to severe frown, smile, or forehead lines. It is also used to help control severe sweating (hyperhidrosis), which temporarily blocks the chemical signals from the nerves that stimulate the sweat glands.
Treatment Time
30 minutes
Treatment Schedule
3-6 months for the face
6-9 months for the underarms, palms, or feet
Downtime
None
Free Consultation
Dermal Fillers
Dermal fillers, such as Restylane, Juvéderm, or Versa, are composed of hyaluronic acid, which is a natural derivative in our bodies. By injecting hyaluronic acid into specific areas of the face, it attracts water to the area to smooth facial folds and wrinkles, add volume to the lips, and contour/replace volume to specific facial features. This procedure gives immediate, natural appearing volume that will last for months.
Treatment Time
45 minutes to 1 hour
Treatment Schedule
6-12 months depending on type of filler
Downtime
None, although mild bruising and swelling may occur
Free Consultation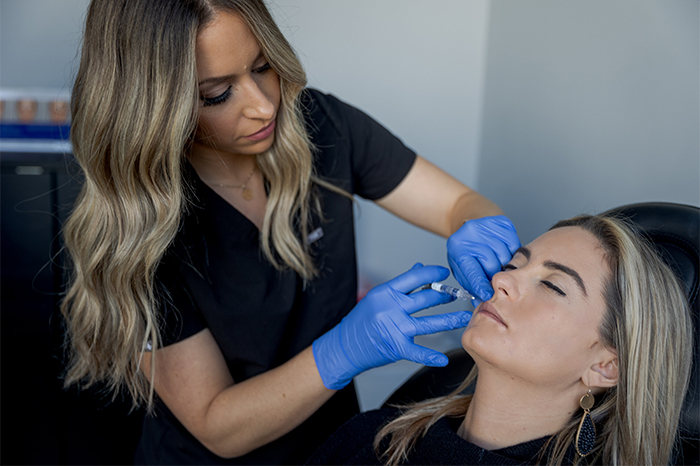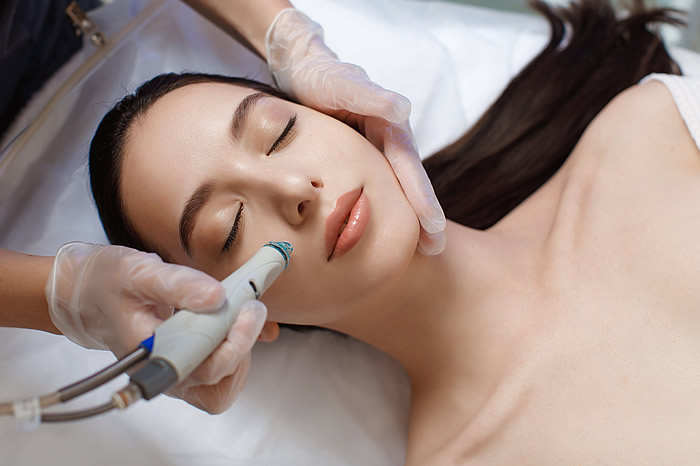 Microneedling
Microneedling is a procedure in which a controlled injury using tiny needles is made to the top skin layer. These pin-pricks send a message to your skin. The injury triggers a healing response from the body, thus stimulating the production of new skin tissues that has been slowed due to the normal aging process. Conditions that microneedling can treat include fine lines and wrinkles, acne scars, stretch marks, skin pigmentations, and hair loss.  Adding PRP (platelet rich plasma), your own human growth factors, will further stimulate the production of collagen and elastin and decreasing healing time. The downtime with microneedling is mild redness for up to 3 days. Adding a dermaplane procedure prior to this procedure is also a great addition as it allows deeper cell rejuvenation, exfoliation and regeneration. This is a very comfortable procedure as numbing cream is applied to the area 30 minutes before. A neck treatment and post care is included.
Treatment Time
1 hour
Treatment Schedule
3-6 treatments every 4-6 weeks, quarterly as maintenance.
Downtime
None.
Price 
Varies
Free Consultation
Dermaplaning
A physical exfoliation facial to remove vellus hair (peach fuzz) and weeks of dead skin. Dermaplaning is an ideal treatment for those with excess peach fuzz that can cause dirt and oil to clog follicles and is an excellent add on for many aesthetic procedures such as microneedling and before a Botox/Dysport treatment.  Dermaplaning is also a wonderful exfoliation treatment for those who are pregnant or nursing and are restricted to use chemical peeling agents. There is the option to add on a superficial chemical peel to provide a deeper exfoliation and enhance results. Dermaplaning can be used for any skin type and anyone with acne scars, dull skin, dry skin, sun-damaged skin, fine wrinkles. An Enzymatic Peel + Aqua Infusion Mask is also included with this service.
Treatment Time
45 minutes
Treatment Schedule
Recommended every 4-6 weeks
Downtime
None.
Price 
Varies per area
Free Consultation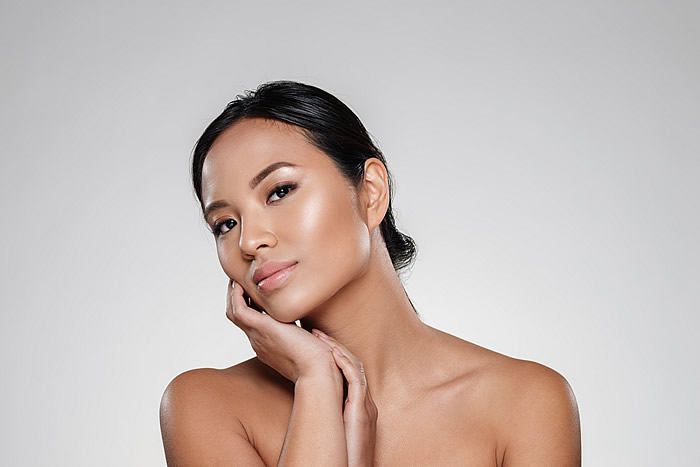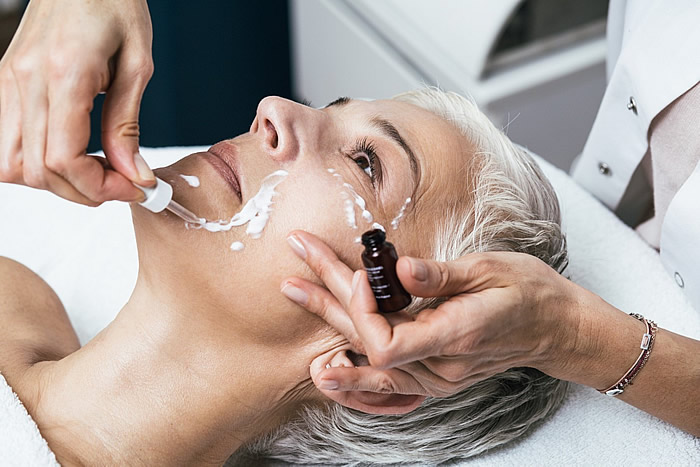 Chemical Peels
A chemical peel is type of exfoliation using a chemical solution to remove the dull top layers of skin, revealing the more youthful skin underneath. Chemical peels can reduce or improve fine lines and wrinkles, acne scars, uneven skin tone and other skin imperfections. Superficial to superficial medium peels are used to speed up the exfoliation process, encouraging cell turnover and leaves the skin looking fresh and healthy.  Chemical peels assist with fine lines, texture, tone, blemishes and provide an overall GLOW to the skin. Your peel will be selected by your skin care professional based on your skin type and concern. This service also includes an Enzymatic Exfoliator, Brightening Accelerator and post care.
Price 
Varies
Free Consultation
KYBELLA®
60 min KYBELLA® is a prescription medicine used in adults to improve the appearance and profile of moderate to severe fat below the chin (submental fat), also referred to as a "double chin."  On average, 2-4 (occasionally up to 6) treatments, every 4 – 6 weeks, are necessary to receive optimal results.
Dose is individualized and determined upon assessment of the area. A consultation is included and required prior to treatment.
Because this treatment permanently dissolves fat cells, there is no maintenance treatments after your results are achieved.
Treatment Area
Chin
Treatment Time
60 minutes
Treatment Schedule
2-4 treatments, every 4 – 6 weeks
Downtime
None
Free Consultation
PRP Injections for Hair Restoration
Platelet Rich Plasma (PRP) is an injection treatment that uses the components of a person's own blood to stimulate hair growth. Platelets are very small cells in your blood that are involved in the clotting process. When PRP is injected into the damaged area it causes a mild inflammation that triggers the healing cascade. As the platelets organize in the tissue they release a number of enzymes to promote healing and restoration of tissue. They have also been shown anecdotally to promote hair growth.
Treatment Time
1 hour
Treatment Schedule
3 treatments every 3-4 weeks
1-2 treatments per year for maintenance
Downtime
None
Free Consultation